#tbt - Play ball! It's Baseball Opening Day!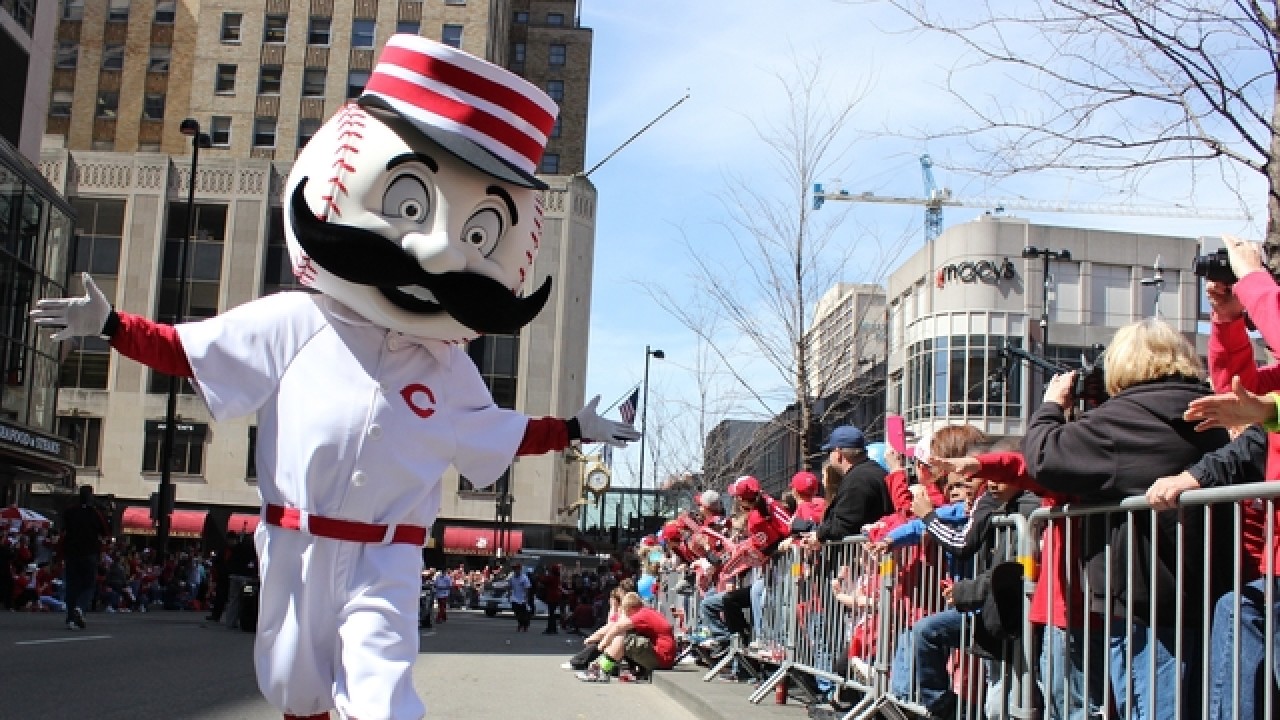 If you're headed to downtown Cincinnati today prepare to walk hand-in-hand with history!
And remember to wear red.
It's baseball season's traditional "Opening Day" at the Great American Ballpark, home of the "oldest Major League Baseball team" that, by the way, won every one of its first 57 games in 1869… *
...Namely, those World Series Champs, the Cincinnati Reds!
This year's game holds special significance for Reds fans.
It marks :
The team's 150th anniversary season

The 100th anniversary of the pre-game tradition, the Findlay Market Parade, and...

The final Reds Opening Day radio broadcast by longtime Reds announcer Marty Brennaman (whose broadcasts with fellow announcer, the late Joe Nuxhall, are the stuff of legend).
For many families, cheering on the Reds (original name : Cincinnati Red Stockings *) on Opening Day has become a tradition.
The pre-game fun begins on downtown streets when the "Findlay Market Parade" of floats, music, bands, celebrities and more sets the day's jovial mood.
Then it's "Batter up!" at the Great American Ballpark, where statues of the Reds' brightest stars ** welcome fans with a nod to the long and storied history of the team.
Awaiting the first pitch, Reds fans often enjoy a bit of team trivia such as :
...Although the team played in other locations prior to beloved Crosley Field, it was at Crosley that the "first professional night baseball game took place ... on May 23, 1935, between the Reds and the Philadelphia Phillies. President Franklin D. Roosevelt 'threw the switch' on the 632 lights remotely from the White House…" ***
...The switch "sent a signal to Reds general manager Larry MacPhail standing along the third-base line in Cincinnati, who then flipped a switch turning on 632 lights…Under the glow of artificial lights…the Reds won, 2-1...****
Who knew?
It would take an entire baseball season to answer all the trivia questions ever written about the Reds and baseball.
But here's another factoid : for decades the Cincinnati Reds have entertained all ages and bonded the generations.
Nothing trivial about that.
Enjoy the accompanying images from the past, including newspaper articles, pertaining to the Cincinnati Reds and Opening Day. Maybe they'll stir a memory or two!






Sources:
* From "Cincinnati Reds" by Sara Gilbert, published in 2013 by Creative Education. Available for checkout at MidPointe Library.
** Ted Kluszewski, Joe Nuxhall, Ernie Lombardi, Frank Robinson, Johnny Bench, Joe Morgan, Tony Perez and Pete Rose. Information from the Cincinnati Reds 2017 Media Guide and from "Reds Honor Rose with Statue, Ceremony" by Jeremy Vernon, available for viewing at :
*** From "Historic Photos of Cincinnati," text and captions by Linda Bailey. Published in 2006 by Turner Publishing Company. Available for checkout at the Local History and Genealogy Gallery at MidPointe Library's Middletown location.
****From A History of Baseball in 100 Objects -- A Tour through the Bats, Balls, Uniforms, Awards, Documents, and Other Artifacts that Tell the Story of the National Pastime" by Josh Leventhal. Published in 2015 by Black Dog & Leventhal. Available for checkout at MidPointe Library.




If you like baseball, you'll love MidPointe Library's collection of baseball-related items! All it takes is a free MidPointe Library card to borrow an item onsite or online!
To see what we offer both onsite and online go to:
Cincinnati Reds (or Baseball).
You can also peruse our vast eLibrary of eBooks, eMagazines, music, movies, TV shows, research databases and our own MidPointe Digital Archives of historical facts and photos. All are available at:

No library card? No problem! Sign up for your free MidPointe Library card at any of our five locations:
Middletown, West Chester, Trenton, Monroe and Liberty Township (second floor, Liberty Center).